Vanden Plas
Günter Werno: Keyboards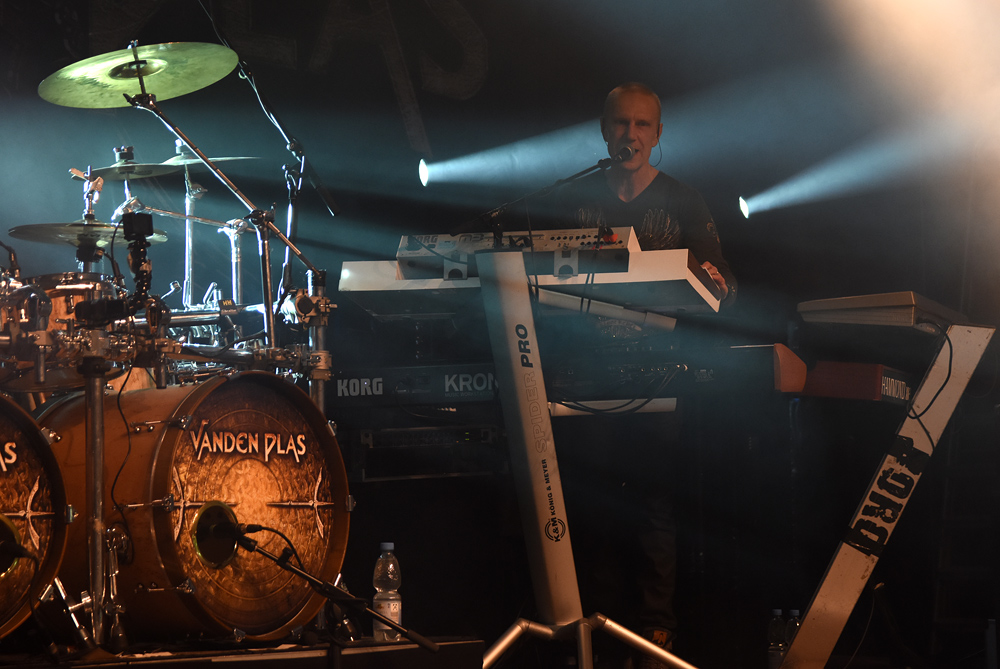 --> Günters Gallery
Günter Werno was born on September 17, 1965 in Neunkirchen (Germany). He started playing the organ at the age of 11 and discovered relatively soon that music would be his passion. At the age of 16, he already started playing in bands. With the cover band "Romeo" he first played in American clubs in the Southwest of Germany and gained live experience there. Later, he won his first awards with his band "Juliet", for which he produced his first own compositions as a songwriter. In addition to the numerous tours and productions with Vanden Plas, Günter Werno is a sought-after live and studio keyboardist.
Furthermore, he toured with the bands DC Cooper, Angra, Kamelot and Consortium Project and recorded albums with them. Discover more details about this in the list below.
Currently, Günter is supported by Korg and Steinberg. Since 2009, he has produced several individual playbacks for the German tv show "Die ultimative Chartshow".
For the theater productions of Vanden Plas, his roles have always been composer, arranger and musical director. In addition, he is taking on other musical directorships or keyboard- and piano positions at various theaters - without his band mates from Vanden Plas - e.g. "Jesus Christ Superstar" in Schwäbisch Hall, "Black Rider" in Kaiserslautern, "Aida" and "Timm Thaller" in Darmstadt, "Rock of Ages" in Plauen, to name but a few.
Since 2019, he has been active as a church musician at the air base in Ramstein.There, he is working as a pianist and choirmaster.
To date, his greatest musical work is "Anima One". A symphony in three movements for orchestra and rock band.
The work had been commissioned by the city of Kaiserslautern and its premiere was scheduled for May 8, 2020. Due to the Corona pandemic, the premiere performance has been postponed to 2021.
Other works from Günter can be found on:
DC COOPER-S/T 1998
ELEGY-FORBIDDEN FRUIT 2000
SILENT FORCE-THE EMPIRE OF THE FUTURE 2000
KAMELOT-THE EXPEDITION 2000
ANGRA-REBIRTH 2001
CONSORTIUM PROJECT-CONSORTIUM PROJECT II CONTINUUM IN EXTREMIS 2001
MISSA MERCURIA-S/T 2002
KAMELOT-EPICA 2003
ANGRA-REBIRTH WORLD TOUR LIVE IN SAO PAULO 2003
SECTION A-THE SEVENTH SIGN 2003
METAL DREAMS-VOL. 5 (Healing Tree is on it) 2003
PLACE VENDOME-S/T 2005
PLACE VENDOME-STREETS OF FIRE 2009
DEBAUCHERY-ROCKERS & WAR 2009
PLACE VENDOME-THUNDER IN THE DISTANCE 2013
UNISONIC-S/T 2012
UNISONIC- LIGHT OF DAWN 2014
NEON FLY-STRANGERS IN PARADISE 2014
NEON FLY-BETTER ANGELS (single) 2015
PLACE VENDOME-CLOSE TO THE SUN 2017
-Günter Werno 2020-
---
Günter Werno: Keyboards
--> Günters Gallery
Günter Werno wurde am 17. September 1965 in Neunkirchen (Deutschland) geboren. Er begann mit 11 Jahren Orgel zu spielen und erkannte relativ bald danach, dass Musik seine Leidenschaft werden würde. Mit 16 Jahren begann er bereits in Bands zu spielen. Mit der Cover-Band "Romeo" spielte er zunächst in amerikanischen Clubs in Südwest-Deutschland und sammelte so Live-Erfahrung. Später gewann er erste Preise mit seiner Band "Juliet", wo er als Songschreiber erste Eigenkompositionen produzierte. Neben den zahlreichen Touren und Produktionen mit Vanden Plas ist Günter Werno ein gefragter Live- und Studio- Keyboarder.
Mit den Bands DC Cooper, Angra, Kamelot und Consortium Project war er auch auf Tour und spielte Alben ein. Dazu mehr in untenstehender Liste.
Mittlerweile von Korg und Steinberg unterstützt, produziert er seit 2009 immer wieder vereinzelte Playbacks für die Deutsche TV Sendung "Die ultimative Chartshow".
In den Theaterproduktionen von Vanden Plas ist er stets Komponist, Arrangeur und musikalischer Leiter. Zudem übernimmt er auch ohne seine Vanden-Plas-Mitstreiter weitere musikalische Leitungen oder Keyboard- und Pianopositionen an verschiedenen Theatern,
z.B. "Jesus Christ Superstar" in Schwäbisch Hall, "Black Rider" in Kaiserslautern, "Aida" und "Timm Thaller" in Darmstadt, "Rock of Ages" in Plauen, um nur einige zu nennen.
Seit 2019 ist er auf der Air Base in Ramstein Kirchenmusiker, wobei er als Pianist und Chorleiter tätig ist.
Sein bisher größtes musikalisches Werk ist "Anima One". Eine Sinfonie in drei Sätzen für Orchester und Rockband.
Das Auftragswerk der Stadt Kaiserslautern sollte am 8.5.2020 in Kaiserslautern uraufgeführt werden. Wegen der Corona-Pandemie ist die Urauführung voraussichtlich auf das Jahr 2021 verschoben.
Weitere Werke von Günter sind zu finden unter:
DC COOPER-S/T 1998
ELEGY-FORBIDDEN FRUIT 2000
SILENT FORCE-THE EMPIRE OF THE FUTURE 2000
KAMELOT-THE EXPEDITION 2000
ANGRA-REBIRTH 2001
CONSORTIUM PROJECT-CONSORTIUM PROJECT II CONTINUUM IN EXTREMIS 2001
MISSA MERCURIA-S/T 2002
KAMELOT-EPICA 2003
ANGRA-REBIRTH WORLD TOUR LIVE IN SAO PAULO 2003
SECTION A-THE SEVENTH SIGN 2003
METAL DREAMS-VOL. 5 (Healing Tree is on it) 2003
PLACE VENDOME-S/T 2005
PLACE VENDOME-STREETS OF FIRE 2009
DEBAUCHERY-ROCKERS & WAR 2009
PLACE VENDOME-THUNDER IN THE DISTANCE 2013
UNISONIC-S/T 2012
UNISONIC- LIGHT OF DAWN 2014
NEON FLY-STRANGERS IN PARADISE 2014
NEON FLY-BETTER ANGELS (single) 2015
PLACE VENDOME-CLOSE TO THE SUN 2017
-Günter Werno 2020-
© 2019 - Vanden Plas Fanclub -